ISOFORM 300 - FABRICATION OF ADOBES USING THE LATEST TECHNOLOGY AVAILABLE, IT'S A PROCESS THAT IS REVOLUTIONIZING THE CONSTRUCTION INDUSTRY.
"ISOFORM 300" Machine, produces blocks of earth at a low cost and allows a fast construction, it does not require skilled labor (mano de obra especializada). The produced blocks have great durability and resistance, are bulletproof, with tests made in laboratories. The walls done with these blocks also have been analyzed and proven against winds of up to 200 miles per hour, which is much greater than the specifications required by the codes of construction of the U.S.A.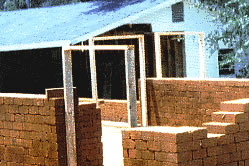 The walls constructed with these blocks also offer excellent isolation against the cold heat and noise. Most of the construction codes of in the U.S.A. require a R=19 factor. The insulation factor of these blocks is R=40 that is, much greater. They also offer great resistance to sismic movements and depending of the constructions design, engineers and architects are in agreement that the construction of walls constitutes the most important factor for sismic resistance.
The walls constructed with this system complement these factors due to their weight, height and because they are solid. They can resist up to 7,5 degrees in the Richter scale.
These blocks also are resistant to fire.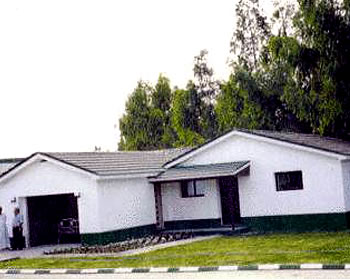 Another very important factor is that in these blocks utilize any type of nonorganic and compactable earth with a minimal content from 20% to 90% of clay, the rest of the materials can be sand and rock.
In most countries, the earth is free and always available. The blocks can be placed one upon the other with no need to place any type of bonding material between block and block and the walls can be finished with plaster, lime, stucco or any other material that is used to finish or to cover the walls.
Due to fact that the weight and the surface that is so smooth and flat, they produce certain friction between each block and this cause adhesion that is as strong as when cement or mortar is used as bonding material. Also the blocks can be placed using: cement, plaster, mortar or even wet mud.

This machine is easy to transport to where the construction site is located since the machine is assembled on a trailer. This way the of transportation of blocks to the construction area is minimized.

We offer training in plant, without cost for the client. Transportation and room and board expenses are the responsability of the customer.
The finished blocks do not require cooking or driying, they can be placed directly in the work area. They can also be used for foundations but in this case it is necessary to add at least 10% of cement in the mixture.

The finishing of the walls can be done using: lime, plaster, mortar, stucco or any other available material. These blocks exceed all the construction codes in the U.S.A.: "The Uniform Building Code", "The Southern Building Code", "The HUD Standards", "The Farmers Home Administration", "Veteran Administration" and the "FHA Building Code".

With ISOFORM 300 machine it is possible to make 5000 blocks in two days, that are almost the amount necessary to construct a house of a plant (of about 150 m2 approximately)
"ISOFORM 300" MACHINE SPECIFICATIONS
PRODUCTION TIMES

PRODUCTION OF BLOCKS PER HOUR: Between 250 to 300.

BLOCKS SIZE: 30x15x10 to 30x25x10 centimeters.

BLOCKS WEIGHT: From 20 to 25 pounds

GASOLINE MOTOR: Kohler mark of 15 H.P., air cooled, the gasoline consumption is 1 gal/hr. with two years warranty.

GASOLINE TANK CAPACITY: 5 gallons (18,9 lts.)

HIDRAULIC PRESSURE: Mark Rexroth or Prince brand, able to produce up 800.000 lbs./square foot

HIDRAULIC OIL CAPACITY: 45,3 LTS .

MACHINE OPERATION: Manual, through control levers.
ISOFORM 300 machine trailer mounted for easy transportation to work site.

MACHINE WEIGHT: 1800 lbs. (818 Kgs)

MACHINE DIMENSIONS: Widht:122 cms. Height: 150 cms. Length: 120 cms.

HOPPER DIMENSIONS: 24x36x33 cms. = 6 blocks

MACHINE WARRANTY: 6 months or 1000 hours of operation

DELIVERY TIME: 30 days

A METALIC MESH OF 1 INCH IS RECOMMENDED TO SIFT STONES AND OTHER MATERIALS THAT ARE NORMALLY MIXED WITH THE EARTH.


Estimated production costs for earth blocks with 300 ISOFORM Machine based ont the production of: 8 hours x 250 blocks per hour x 25 days month = 50.000 blocks

LABOR AND SUPPLIES
(Expressed in US Dollars)

Earth mix: 1 cubic meter = $ 3,00
1 cubic meter = 98 blocks of 30 xs 15 xs 10 cm.
50.000 Blocks = 510 cubic meters = $ 1,530.00

Gasoline:
1 galon x 1 hr. x 8 hrs. x 25 days x $ 1.50 = $ 300.00

Hydrulic oil: = $ 10.00

Operator:
Machine operator, montly salary = $ 400.00

Four helpers:
Montly salary = $300.00 (8 hrs. Work day) x 4 = $ 1,200.00


TOTAL LABOR AND SUPPLIES

$ 3,440.00 divided by 50,000 = US$ 0.069 per block

Plus machine depreciation cost.

The machine depreciation cost can be calculated on the following basis:

Average machine price FOB Miami = $ 19,950.00
Freight and Insurance = $ 400.00 to $1,000
Import duties = ????

Example: to depreciate the total machine cost in Two years: Asuming a final machine cost at work site of $ 25,000.00 and working 5 years, 8 months of 25 days of 8 hours, it would produce 2'000,000 blocks. The cost per block atributable to the machine would be $ 0.0125 that added to the cost of labor and suplies results with a final cost of $ 0.0815 PER BLOCK.