» »


Alpaca Garments (Premium Wool)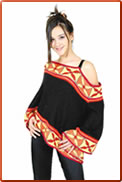 The Alpaca clothing is of First Quality by Fotrama, the only line made with the finest 100% alpaca wool and knitted by hand, this makes these articles completely fashionable and in style. The quality and exclusivity of the designs, successful unite the era of the art of hand knitting with the era of the High Couture.

Custom Made
TiendasLatinas is not limited to the designs of our catalogue: the possibility exists of working with you as a team and thus create customized designs, with a special touch of your own creativity, as well as special sizes to the client specifications.

The wool of Alpaca enchants everybody that touches it, once you experience it you will be in agreement with us.
Categories