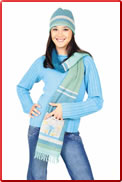 Our articles are clasified in four categories. Our Alpaca Clothing with Premium Wool, show some really work of art in 100% Alpaca of the famous brand: Fotrama, next category is of our Artisan Clothes that show beautiful articles, with showy combinations of colors, leather, aguayo (Inca Fabric) that make them worthy heiresses of a rich artisan tradition.

Time of celebration, in our section of Carnival Suits, we have an ample assortement of suits and typical masks of the Carnival of Oruro. Finally in our category of Straw and Felt Hats, take a walk by the streets with style while you are protected from the sun by wearing these fabulous hats.

Most of the articles in the above categories can be made in custom sizes and personalized designs, at the request of our clients.